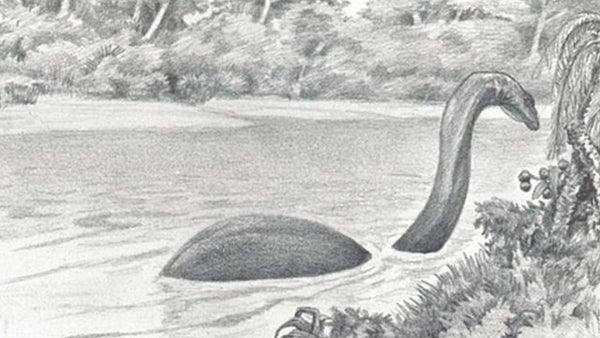 Many people think of dragons as winged serpents breathing fire and then eating the ashes, but the ancient texts only ever to dragons as huge reptiles. It was only in the later texts that 'dragon' would be replaced by the word 'dinosaur'. Evolutionists would have you believe that these creatures are extinct and that they died before man even came to be, but the question is rather a simple one: If so, then why…? Why do we still see these magnificent creatures? Why do they wash up dead on our shores? Why do people in certain parts of the U.S. see Pterodactyls? And what is going on in the Congo? Why do certain villages in Kenya bury their dead deeper than usual?
All these questions and many more are raised by people all over the world. You're all probably thinking, "If dinosaurs (dragons) are real, then why aren't UFOs?" Well, I can't account for UFOs, but I can say that I have never had the honour of seeing a dragon up close. From those who have, it appears as normal as air in our lungs. Then, there's all the evidence of man and dinosaurs living side-by-side. In China, they have records of an emperor who used dragons to pull his chariots on special occasions. There are even records of a family in China that raised them for their blood and body parts to be used as medicine. Explorers and great ancient philosophers from all over the world write of dragons existing.
Alexander the Great on his explorations in India said that many of his men were frightened off by great dragons living in caves. Alexander, however, was not the only explorer to have encountered these creatures. In the Anglo-Saxon Chronicles recorded in 793 A.D. they are quoted as saying that a terrible warning came over the Northumbrians of "great flashes of light across the sky, and whirlwinds, and fire breathing dragons." In France they have records of a water dragon coming out of the water of the Seine River. This dragon appeared harmless as it did not breathe fire, but soon after it laid waste to parts of France. This dragon was hunted down, brought back to where they had found it and was beheaded. The dragon's head was mounted on a building. This dragon was named 'La Gargouille' and from it came 'gargoyle' which are common in French architecture.
The Ica Stones of Peru
We've all heard of the Ica Stones and the Nasca Drawings. There are many interesting things depicted on the Ica Stones. There's drawings showing surgery, their daily lives as well as dragons. Now, why would they have drawn that there if they'd never seen dragons before? Is it perhaps that the people who created these stones knew of dragons? Something to ponder at least.
Other Evidence
The Ica Stones aren't the only evidence we have of these creatures. Civilizations all over the world have tales of dragons and the havoc they have caused. 2000 years ago, Gilgamesh wrote of a particular dragon that guarded the Cedar Forest of Amanus in Mesopotamia. Having powerful legs like that of a lion, the talons of a vulture, with a head bearing bull's horns and a tail like a serpent. This creature they called Humbaba and he is sometimes depicted as human-like figure with scales on his back and the ability to breathe fire. He almost resembles a Stegosaurus in description, but since the stories can't seem to agree on his physical characteristics it would be quite difficult to give an exact description of Humbaba.
The Loch Ness Monster and Other Famous Dragons
We all know this famous Scottish legend. So many stories surround the Scottish Loch. With the great depths the loch reaches, the possibility of a sea monster in the loch is not strange. For over a century locals have reported sightings and over the years the number of sightings continued.
I remember reading one particular story of a young boy and his friends who were out on the Loch, I can't remember for certain if they were out looking for Nessie or if they were just out wind-surfing, whatever the reason they were out on the Loch. At some point they hit something and were capsized. Once capsized, they found themselves swimming blind in the fog. They called after each other and started swimming in the general direction of shore, but this was where their trip took a dark turn. Suddenly, they heard someone screaming and then another one of them screaming that something had got their friend. They immediately knew what had happened–Nessie had got one of them. They started to swim frantically towards the shore. Then came another cry and the last of his friends screaming that it had taken another of his friends down. After a while the boy realized that everything was quiet. He called for his friend, but heard nothing. It was then that he realized he was alone. He made it to shore crying for his friends that had been taken by Nessie. He told everyone what had happened. Sadly, his is probably not the only story like this.
Pterodactyls/Pterosaur
These amazing winged creatures have been spotted multiple times in American states such as Texas, Ohio and other states in America. Stone carvings further add to the question of whether or not some of these amazing creatures may still exist. There have been spikes in sightings of these winged creatures in North Carolina this year. Most scientists have refused to accept that these creatures could still exist as it would contradict all that they claim to be true, but when so many are seeing the same thing you have to question whether or not they are right about all their theories. I mentioned above that the locals in Kenya bury their dead deep down otherwise they feel that Kongamato will come and dig up the bodies and eat them. They also have said that Kongamato lives deep in the caves.
Mokele Mbembi
Possibly the most famous creature in recent news. Tales of Mokele Mbembi were only discovered when Christian missionaries went into the Congo to speak the locals about Christ. They told stories of their encounters with what appeared to be a hybrid between a Plesiosaurus and a Brachiosaurus. This creature has been getting a lot coverage in the news. Since the discovery of 6 new species of frog and bat, many have wondered about whether or not this creature exists. Some parts of the Congo are still difficult to explore for various reasons and this makes it seem enticing to explorers. Could it be that those regions are where Mokele Mbembi is now hiding?
Conclusion
In reality all we will ever know is what people say to be true. If we want to know for ourselves we need to go out there and see for ourselves, but until then, we live and wonder if these people are just imagining it or is there more to this than we think. Whatever you choose to believe, I believe they are out there. Maybe they aren't as big and scary as holiday portrays them, but as I mentioned in my article on extinct creatures (see Science and Medicine articles) the environment has had a major effect on their growth. History tell us that man has always walked with dragons/dinosaurs and thousands say that they still do.
So, avidReaders, I pose this question to you: What do you believe? Let me know in the comments what you think. I'd love to know.
God bless you all my dear avidReaders. Have a blessed week 🙂